Why choose DVF to manufacture & install your Motorhome Towbar?
We have over twenty years metal fabrication experience, we use modern manufacturing techniques and source high quality materials to produce each component, all of the welding is carried out by coded welding staff, the material coating is professionally applied, all installations are carried out by NTTA trained and certified fitters.
Towbars for Adria, Autosleeper, Autotrail, Bessacar, Burstner, Chausson, C-i, Elddis, Hymer, Marquis, Swift & many more.
Each towbar is made to measure and it can be powder coated to your own colour specification.
Our Towbars can be made as a protective bumper both in straight or gull wing styles.
You can have a choice of standard or adjustable height flange ball or a detachable swan neck.
We can build the towbar so you can keep the corner steadies attached, or add brand new steadies.
We provide a comprehensive manufacture and installation service.
All our products and installations are made using excellent quality raw materials that are sourced locally.
Installations can be made to all vehicles including those with Multiplex/Can Bus Systems.
All our towbars are finished to a high quality, they are sandblasted and powder coated.
All our bumper towbar cross members are finished to an even higher standard, they are sandblasted, hot zinc sprayed and powder coated.
All fabrication work carried out by experienced certified coded welders, all installations are carried out by NTTA trained and certified fitters.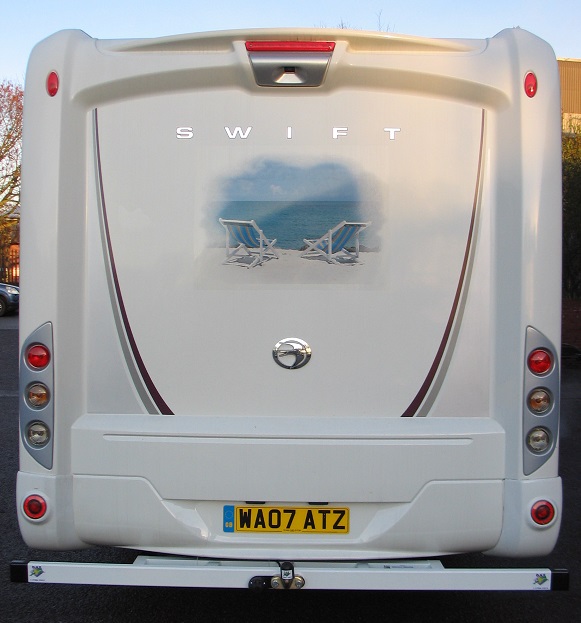 We do not weld your chassis, all towbars we make are bolted on & we use the existing bolt holes when ever possible.
Most towbars are finished in white and black, but a wide range of colours are available to choose from.
DVF is based in Cullompton, Devon, close to junction 28 off the M5 giving easy access to the surrounding areas.
Exeter, Tiverton and Wellington are all within fifteen minutes drive, Taunton and Honiton are about a twenty minute drive, Plymouth, Barnstaple and Bristol are about an hour from us.  
We recommend that anyone considering the purchase of a Towbar for their motorhome should check with the maufacturer to confirm the towing capacity of the vehicle before proceeding as any weight that is added to the vehicle reduces your towing capacity.
If you do not know the current kerb weight, we can arrange for your vehicle to be weighed on the public weighbridge situated next door to us.
If you would like any more information, or a quotation, please call Derek on 01884 33915
If you have an AL-KO chassis and you would like to give us measurements when you call please use the diagram below as a guide.